How to Earn Bonus Points

We're lucky enough to live close to 4th largest city in the US, and we can take advantage of everything that Houston offers.
Here's how:
You can visit an approved local museum, architectural landmark, or lecture (1 per 6 weeks)
You must spend at least one hour at the event. You will need to show proof of entrance (either a receipt or brochure from the location)
You must write a 1-2 page

typed and spell checked

essay (double spaced, 1-in margins) containing the following:
Event name, location, date
What happened at the event/what was the exhibit?
For a museum exhibit: What exhibit did you visit? Pick your favorite piece. Give a brief description (only one paragraph) of the piece including name, date, artist, stylistic period. Answer the question: What was the function of this piece? What is the subject of the piece and how is it portrayed? Provide examples to support your point.
For an architectural landmark: What is it? Describe the building, it's form and function (only one paragraph). What style is the architecture is it? How does the form support the function? Provide examples to support your point.

For a lecture: Briefly describe the topic of the lecture (only one paragraph). What was the lecturer's thesis? Was it valid or invalid based on the proof they provided? What was their strongest point? Weakest? Provide examples to support your answer.

Please double space, use a correct heading, and use standard page margins.
Cite your sources using MLA format.
You can replace your lowest minor grade.
All extra credit is due before the end of school of the last full day of the 6 weeks.
---
Powered by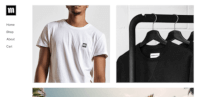 Create your own unique website with customizable templates.